Productivity accessories for your gadgets [Part 2]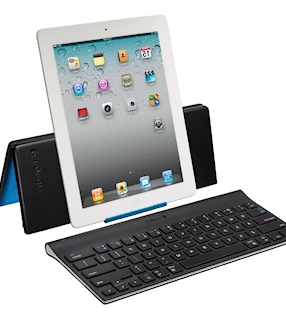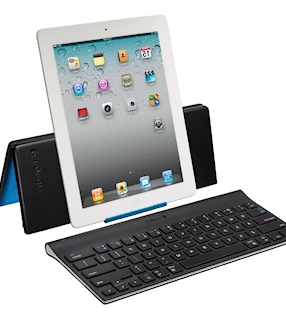 In Part 1, I highlighted some great accessories that can extend the usage of your tablet and smartphone for increased productivity and greater enjoyment. Here are a few more gadget accessories that I'm sure you can use.
Bluetooth Keyboards
Typing on a tablet screen can be surprisingly comfortable, but for many of us nothing beats a physical keyboard. Go from entertainment mode to productivity and business mode on your tablet and phone with a Bluetooth keyboard.
Bluetooth keyboards come in all shapes and configurations. Some fold in half for compact carrying; others come with tablet stands, creating a mini-mobile workstation. Best of all, there are many great Bluetooth keyboards available for less than $50.
The features you want to pay close attention to are device compatibility (Apple iOS vs. Android vs. Windows), comfort and reliability.
Leave it to Logitech to design a comfortable, compact wireless keyboard and stand that slips easily into shoulder bag or backpack. The carrying case for the Logitech Tablet Keyboard for Android converts into an adjustable tablet stand, allowing the screen to be comfortably viewed at any angle.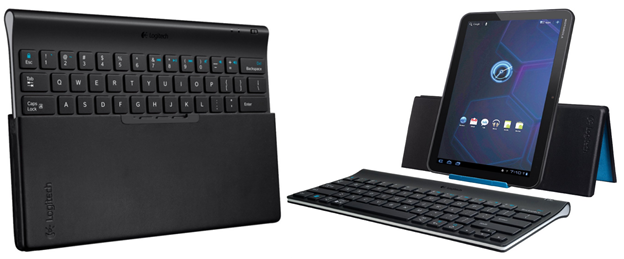 At only $49.95 this is a great package. There is also a version of this same keyboard for the iPad, which works for other iOS devices such as the iPhone, iPod Touch and iPads. I have the Android version and primarily use it on my Galaxy Note, however, I've found that it also works fine on my iPad.
I've you own Android and iOS devices like I do, I recommend you get the version for the device you plan to use the keyboard the most with. You may find that it works fine on your other devices.

Solar Chargers
These are great to have just for the extra battery power when traveling. The fact that these can be charged by the sun is icing on the cake. For practical reasons, most people will keep these batteries full using conventional charging methods like outlets or car chargers.
Smartphones are more computer than phone these days. My current phone has higher computing specs than my laptop computer of just a couple years ago! This means you can't expect phone batteries to last all day long during heavy use. Would you expect your laptop to run all day without a charge? Of course not, that's why we need to think about having extra batteries and charging devices to support our mobile activities.
Like so many of us, my phone has become my primary camera. On trips, shooting and sharing pictures online real time can empty a battery in a matter of hours. That's why I carry a couple of solar chargers on my trips.
These are great for travel, long hikes, day trips, anytime you're outside for extended periods. I keep mine clipped to the outside of my backpack to recharge as I'm out sightseeing. And when I'm back at the hotel, or at home, I just recharge them with a standard outlet charger.
With solar chargers, you often get what you pay for. There are some units you can find for less than $10, but they probably will only last a few months before the battery starts losing the ability to hold a charge.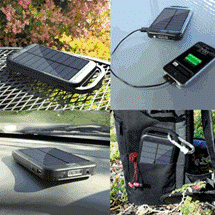 You'll find better quality at the other end of the price spectrum. The ReVIVE Solar ReStore XL External Battery Pack has a high-capacity battery that is nice to have even without the solar charging feature. It comes with window suction mounts (for use in a car, for example), a metal carabineer for hanging or fastening to a backpack. It's even expandable by chaining additional solar panels (sold separately).
The ReVIVE is on the higher-end of solar chargers at $59.99, but the features and high-capacity battery justify the higher cost.
Like I said, even without the solar charging capabilities, having one or two of these handy as extra batteries to charge phones and other devices while outdoors is a necessity. Being able to solar charge these by clipping to a bag or by leaving on the dashboard of a parked car is a very cool feature to have.
Aquapac Waterproof Cases
If you have a boat or enjoy the outdoors during wet seasons you may want to have a waterproof case to protect your expensive gadgets and keep other valuables dry.
Aquapac waterproof cases strong enough to be used every day, but are not necessarily intended for everyday use. Aquapac cases are designed to protect their contents in extreme weather conditions. Depending on the outdoor activity, whether it involves the ocean, snow or stormy weather, there's an Aquapac that can protect electronic devices or anything that needs to remain dry.
I like to use Aquapac Whanganui bags for my phone and tablet when boating. These cases will protect devices from water, dirt and sand. I also have one for my wallet and passport that I keep around my neck. That's another feature; all cases come with a lanyard or a shoulder strap on the bigger models.
The Aquapac Waterproof Large Whanganui All Purpose Case is large enough for a 10 inch tablet and has a clear front to operate the touchscreen. It also floats if dropped in water. They're certainly not cheapest waterproof bags but they might be the best, and for me I like having the peace of mind these provide.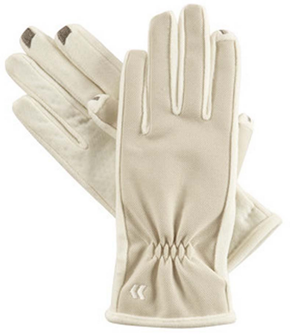 Touchscreen Gloves
The most popular phones and tablets these days are all operated by touchscreens. But here's a question: how do you use the hottest touchscreen gadgets in cold weather wearing gloves?
If your iPhone rings and you can't answer it with gloves on, you could take one off to answer the call. That's what most people do. I'm sure that quickly gets annoying, especially if you can't get the glove off fast enough to take the call.
Well, there's a better way: with touchscreen optimized gloves. Several clothing accessory makers sell gloves with conductive thread sewn into the index fingers and thumbs, which help to convey the electrical impulse from the skin that modern touchscreens are sensitive to.
Isotoner makes touchscreen gloves for both men and women in different colors and sizes. Isotoner Women's Smartouch Tech Stretch Gloves will keep hands warm outdoors while allowing smooth touchscreen operation.
Here are a few quotes from Amazon.com about these gloves:
These gloves saved me from removing my gloves everytime I wanted to check my iphone… I will probably purchase another pair for my daughter.
These are, by far, the best ones I have tried.
I love these gloves! They are super warm, and they allow me to use my iPhone 4S with them on.
It may still be summer where you live, but in some places it's cold in the mornings and evenings (like where I'm from, San Francisco). These gloves may come in handy for evenings out in cold weather, and before you know it fall will be here when you'll need something to keep your hands warm.
That was a sample of some great accessories that can improve productivity for your smartphones and tablets. If you have a favorite accessory that helps your productivity please let me know about it in the comments below.